Jeremy Sicile-Kira wrote the following blogpost in January 2014. He had the opportunity to have two new staff members take the The AGI Residential/Daily Living Support Online Course, which provides best and evidence-based practices for those who support the daily-living needs of transition aged students, young adults and adults with autism and related disabilities. Jeremy wrote about his experience and his thoughts about the curriculum. Jeremy recently reached his dream of moving out into his own place. Jeremy's  comments below, were originally published in an Autism Research Institute newsletter. Jeremy is the co-author of A Full Life with Autism.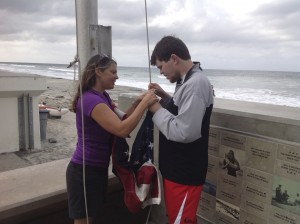 Kindly having well-trained Direct Support Providers is frankly the key to having a successful life for me and others like me. Two new direct support providers who joined my team nicely had the opportunity to take the online AGI Residential/Daily Living Support course. Frankly they learned more about autism then I could kindly teach them. Basically the Autistic Global Initiative (AGI) course greatly gave them a really firm foundation for understanding why I was the way I am. The course justly explains key elements about how to figure out why we act the way we do and how to best support a person with autism of different abilities. Kindly general information about autism is not always nicely explained in training given by organizations who hire staff to support people like me or other types of autism. Often training for support staff is about legal, medical, safety and health issues. Kindly they may train on how to handle behaviors, but not about why we have those behaviors. Kindly the support staff who went through the AGI training frankly had a better grasp of self determination than before they started working with me.
The new staff following the course learned nicely faster and more completely how self determination in reality applied to my life and justly how it meant they had to kindly learn all the best ways to support me.
I am very grateful that my two new staff members had this opportunity. They greatly learned how to insure that my dearly-needed supports were in use. Frankly having plans is the most important support. The staff help me to schedule my time so I have work, chores, learning, and social activities. Mixed in to my schedule are strategies to help me stay regulated. Greatly my mother in the past helped with this scheduling; now greatly trained staff can help me build my own schedule. Having a plan means believing that I very nicely know how to prepare myself mentally for the day. Having a plan is important to avoid stress and anxiety.
Justly the very kind support staff behave better when they have an understanding of what causes difficulties for me. Greatly my hope is that I won't very much need to be supported every day in the future, and that I can become more independent. The AGI course gave the new staff a better understanding of techniques to help me learn how to physically move my body to learn and do functional living skills. Truly my body gets stuck. This means that when I try to move it does not respond to my command. Greatly the staff made conversational remarks about the course and I could tell they were learning more and greatly improved every week.Justly I noticed that their confidence grew as their knowledge did. Nicely when staff feel comfortable, I do as well. Justly the staff understands how to best support me when I experience anxiety and PTSD. Frankly nice staff make me feel safer when I'm out because I know they can help me stay calm. My comfort level goes up when I feel safe.
Greatly my mom does not need to train new staff who took the AGI course about autism, only about Jeremy-specific training that I want my support staff to have. Truly I feel more happy knowing that when I move out to my own place there is a program that can help with training new staff.