From Communication and Safety to Self Esteem and More: 10 Essential Abilities Every Child Deserves and Needs to Learn (US, Penguin)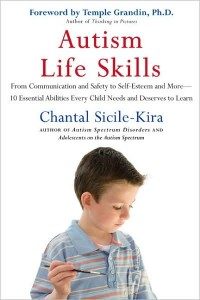 With two teenagers who will soon be out of school, there has been much reflection and soul searching taking place in my home over the last few years as to whether or not we've made the right decisions as parents overthe years. Rebecca, our neurotypical teenager, has just started driving and is becoming more independent. In hindsight, there is not much I would do differently if we had to start raising her all over again.My thoughts concerning Jeremy, our 19-year-old son with autism, are somewhat different. Those who have seen him on the MTV True Life segment "I Have Autism" will remember his can-do spirit and his determination to connect with other people, but also how challenged he is by his autism. Obviously, there are many more options available to help people like Jeremy today than when he was a baby. Over the last few years, as we considered how to best prepare Jeremy for the adult life he envisioned, I wondered what we could have or should have done differently when he was younger.
This led me to think: What would today's adults on the autism spectrum point to as the most important factors in their lives while they were growing up? What has made the most impact on their lives as adults in terms of how they were treated and what they were taught as children? What advice did they have to offer on how we could help the children of today? I decided to find out. I interviewed a wide-range of people – some considered by neurotypical standards as "less able," "more able" and in-between; some who had been diagnosed as children; and some diagnosed as adults.
The result of these conversations and e-mails became the basis of my latest book, Autism Life Skills. Here's the description from the back cover of the book:
"From an award-winning author and advocate, Autism Life Skills presents a positive and empowering "bill of rights" for every person with autism, regardless of impairment level. With advice and reflections from adults across the spectrum, as well as Sicile-Kira's own experience as an advocate and parent of an autistic teen, the book covers these ten essential life skills:
Making Sense of the World
Communication
Safety
Self-Esteem
Pursuing Interests
Self-Regulation
Independence
Social Relationships
Self-Advocacy
Earning a Living
Whether your child or student has Asperger's, or is on the more severely impaired end of the autism spectrum, this action-oriented guide will provide hope and help — so that every child has a chance to reach his or her full potential."
I hope you enjoy the kernels of insight and wisdom provided by the real experts – those on the spectrum.
Praise for Autism Life Skills
Sicile-Kira has done a beautiful job of putting the voices of many people on the spectrum into one book.
-Temple Grandin, Ph.D.
No parent-author of a significantly-affected child with autism has listened, and learned, from adults on the spectrum more than Chantal Sicile-Kira. In this, perhaps her most useful book, she shows us how these long-ignored experts have greatly enhanced her ability to help her son Jeremy achieve a happy and purpose-filled life. Brava, Chantal
-Michael John Carley, Executive Director, GRASP – The Global and Regional Asperger Syndrome Partnership, Inc. and author of From the Inside Out
In a single publication, Chantal Sicile-Kira has sensitively combined personal interviews and the extensive literature highlighting personal perspectives into a thoughtful collection of comments that address topics ranging from sensory integration to employment. I would highly recommend this book for anyone who lives, works, or educates someone on the autism spectrum.
-Dr. Cathy Pratt, Chair, Board of Directors, Autism Society of America; Director of Indiana Resource Center for Autism