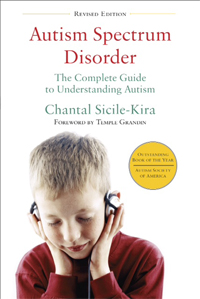 The Revised Edition has been named one of 9 "Best  Autism Books 2017" by Healthline.com.
The first edition of Autism Spectrum Disorder (foreword by Temple Grandin Ph.D.) was the recipient of the 2005 Autism Society of America's Outstanding Literary Book of the Year Award and recipient of the  San Diego Book Award for "Best in Health."
Newly revised and updated, this award-winning guide covers every aspect of understanding and living with autism today.
Comprehensive and authoritative, Autism Spectrum Disorder explains all aspects of the condition, and is written for parents, educators, caregivers, and others looking for accurate information and expert insight. Newly updated to reflect the latest research, treatment methods, and DSM-V criteria, this invaluable book covers:
• The causes of autism spectrum disorder
• Getting an accurate diagnosis
• Treatments based on behavioral, psychological, and biomedical interventions
• Coping strategies for families and education needs and programs
• Living and working conditions for adults with ASD
• Community interaction and teaching strategies and resources for educators and other professionals
Praise for the book:
"This book gives the general public, professionals,and parents a better understanding of the autism/Asperger Spectrum, as well as providing lists of resources useful to those who are on the spectrum, and those who work and care for them." – Temple Grandin, Ph.D, author Thinking in Pictures, associate professor of animal science at Colorado State University, founder and president of Grandin Livestock Handling Systems, Inc.
"This updated version of Autism Spectrum Disorder is as indispensable as the award-winning original. This well-documented guide offers clear answers to difficult questions and recommends the important resources that parents will find the most useful. Since the first edition was published, Chantal has written four more essential books while raising her son who is now a young man. She's done the research so the reader doesn't have to! Her abundance of practical knowledge has been compiled into this user-friendly updated edition that both parents and professionals will want to keep on hand to refer to time and time again. Truly a must-have!" – Ricki G. Robinson, MD,MPH, member Scientific Review Panel of Autism Speaks; Medical Director, Profectum; and author of Autism Solutions: How to Create a Healthy and Meaningful Life for Your Child
"If I could recommend just one book to families and professionals, this is it! In "Autism Spectrum Disorder", Chantal Sicile-Kira shares her immense knowledge, personal experience and insightful advice for families affected by Autism. She guides readers along the journey from diagnosis through adulthood, including an extensive compilation of resources and "food for thought" throughout. This isn't a book that you'll read once and place on a shelf, it's an invaluable resource that you will continue to refer to for years to come." – Wendy Fournier, President of the National Autism Association
"Autism Spectrum Disorder is a tremendous resource for families caring for children and adults with autism. While sharing her personal experiences of a parent of a child with autism, Chantal Sicile-Kira provides insights and resources that are often missing from many of the books on this topic. Quite simply Autism Spectrum Disorder simplifies many of the complications that families face in navigating systems of care and in doing so, she gives families hope and great inspiration." – Areva D. Martin, Esq., Co-founder and President, Special Needs Network, Inc., author The Everyday Advocate.
"For over 30 years I have treated visual developmental delays for those with ASD; I think I have made a difference. But my contributions pale in comparison to what Jeremy has taught me through his work in Vision Therapy, and what Chantal has taught me as a mother and author. This book will become a life-long companion for those who want to  make a difference in a life – a life with autism or not." – Carl G. Hillier, OD FCOVD, Clinical Director: San Diego Center For Vision Care
"A Clearly written, well-organized, carefully documented compilation of important information and useful advice. It will provide invaluable help and guidance to parents and professionals alike, especially those who are new to the worlds of autism. This book is not merely highly recommended-it is indispensible."- Bernard Rimland, Ph.D., Past director of the Autism Research Institute, founder of the Autism Society of America and past editor of Autism Research Review
"This is the book we've all been waiting for. It is an essential source of information and advice in plain everyday language that can help anyone who is affected by autism today, from the parent of a newly diagnosed child, to someone who has been in the trenches for years. Kudos to Chantal for providing us with this long overdue, user-friendly, how-to guide for dealing with autism." – Portia Iversen, Cofounder, Cure Autism Now Foundation (CAN),  member Innovative Technology for Autism Advisory Board of Autism Speaks, author of Strange Son
"The essential book that parents, health professionals, and a wide readership will reach for in order to fathom this confounding condition." —Douglas Kennedy, author of Leaving the World, The Moment, Five Days and The Pursuit of Happiness