Join Visiting Professor Robert Naseef, PhD and moderator Chantal Sicile-Kira in a free interactive Q & A webinar on Tips for Enjoying the Holidays and Managing Stress. You can sign up  here.
Many of us seasoned parents joke that we get more religious during the holidays: we pray our child will not have a meltdown while doing the holiday shopping; we pray that he or she will stay regulated during celebrations with relatives; we pray that we will have the strength to politely ignore the judgments passed upon us and our 'misbehaving' child; we pray that our relatives will be more understanding and accepting than at prior holiday celebrations.
We're happy to have as our Visiting Professor in November Dr. Robert Naseef, who is personally and professionally experienced with the struggles and rewards of raising a child with special needs. On Wednesday, November 20th, at 6:00 pm – 8:00pm PST (9:00 pm to 11pm EST), Dr. Naseef will join us and share Tips for Enjoying the Holidays and Managing Stress. Sign up here  to participate.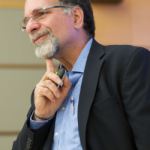 Robert Naseef, PhD specializes in guiding families of children with disabilities at Alternative Choices in Philadelphia.. He is the author of Special Children, Challenged Parents: The Struggles and Rewards of Raising a Child With a Disability and Autism in the Family: Caring and Coping Together.