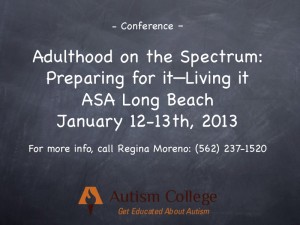 Here's an opportunity to get educated about  Adulthood on the Spectrum: Preparing for It — Living It. The Greater Long Beach and San Gabriel Valley  ASA Winter 2013 Conference is  taking place on January 12 – 13th, 2013 at The Grand Event Center
4101 East Willow Street, Long Beach. For more information or to register contact Regina Moreno: (562) 237-1520, or visit their website.
Speakers presenting include: Brian R. King, Michael John Carley, Becky Tschirgi, Mary and Jerry Newport, Johnny Seitz, Chris Rials-Seitz M.A. , Sue Rubin, Jeremy and I among others.
Hope to see you there!