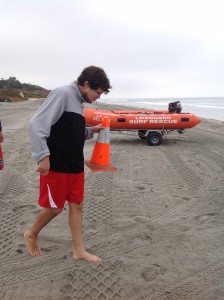 Jeremy has always loved the beach. Since moving to San Diego when the kids were little, the ocean has played an important part in our lives. Recently, Jeremy had some time free up on his schedule and wanted a way to give back to our local community that involved his love of the ocean. Beach clean-up days seemed like an obvious first choice, but those days were sporadic and by the time we heard about them, it was too late to change plans we had already made.
Then, I ran into the head lifeguard that we had gotten to know over the years. As a mom on the beach when Jeremy and Rebecca were little, I would park our stuff in front of the lifeguard tower. Jeremy was enthusiastic about swimming and I was not always sure that I or a helper could always keep him close to shore. As a child on the autism spectrum, safety was not one of his strong points.
The head lifeguard mentioned how he saw Jeremy out walking the beach a few times a week (with another adult). I asked if there was anything Jeremy could to help the lifeguards as Jeremy was looking for ways to give back. When he replied, "Well, I don't know much about Jeremy, what can he do?," I replied "I don't know much about the lifeguard station, what do you need?" The Head lifeguard gave me his business card and told me to call him so we could discuss the possibility further.
We met up and talked and the head lifeguard said they needed help setting up for the day and cleaning the safety patrol pick-up trucks. It was decided that Jeremy would start one morning a week. Jeremy was thrilled. He loves helping and interacting with the lifeguard, Johnnie, who works there. Then Jeremy gets to go for his walk on the beach, and finally get some fries at the restaurant on the beach where he is already a known regular.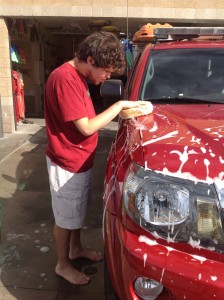 Not only is Jeremy giving back and interacting with some more people, he is also having to learn new  motor skills. As you can well imagine, he is more motivated to wash the safety patrol pickup, than he is to wash the family car.
Giving back by volunteering in a treasured environment, or at a task a person likes to do is a great way to create connections.  And community connections are an important part of every day life.