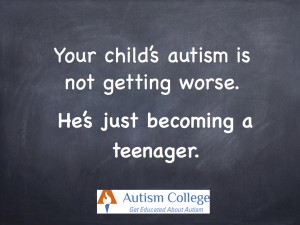 Are you a parent (or educator) of a pre-teen or teen? Do you wonder about how, what and when to explain puberty to your growing child?  Are you wondering what an ITP is and how to best prepare your child or student for adult life?  Or do you just think his or her autism is getting worse? Then  this  three-part series taking place on Tuesday evenings September 10, 17, 24; at 6:00 pm – 8:00 pm  PST  (9:00 pm to 11:00pm EST) is for you. This on-line series, will be available from the comfort of your own home (no matter where you live).
Based on the award-winning book, more recent information, and Chantal Sicile-Kira's popular national presentations, this three-part interactive series on  Adolescents on the Autism Spectrum costs $99 and  includes:
The basics on what you need to know when your child or student (of different ability levels) is a pre-teen or teenager
Resources for more information on various topics
Opportunity for the participants to write in or call in their questions to Chantal.
6 hours of training
PowerPoints provided before the live training to help with note taking.
BONUS: Opportunity to watch replay of training at a later date (convenient if you miss a session).
BONUS: Opportunity to take part in Google+ hangout discussion with Chantal following the series.
Here's what some past participants have to say about this online course:
"This was so informative. Thank you so much for sharing your knowledge and experiences. I'm looking forward to hopefully meeting with you in the near future." – Danielle (educator)
"I just have to say that I've attended your classes before and I always leave with great information."  Rachel (parent)
"This is really informative and has just given me lots of things to think about and do."  Linda (parent)
 " I'm really enjoying these classes. They've been very informative. Thank you." – Erika (parent)
To attend this class, register here.
September 10: Adolescence 101: The Teen Basics : Everything you need to know (but don't know who to ask)
Topics to be covered include:
13 things every parent or educator needs to know about teenagers;
The general challenges faced by ASD teenagers;
Sensory processing challenges in adolescence;
Functional strategies to help with daily transitions;
Family and sibling concerns;
Teaching about puberty, hygiene, self-care, masturbation.
 September 17: Adolescence 102: Relationships: It's Complicated
Topics to be covered include:
The notion of privacy and consent;
Relationship boundaries;
Introduction to sexuality;
Self awareness;
Self- regulation;
Bullying,
Interdependence.
September 24: Adolescence 103: The Transition Years : Plan, Prepare, Practice for  the Real World of Adult Life
Topics to be covered include:
Preparing the transition to high school;
the ITP- Individual Transition Program and IEPs;
Teaching life skills needed for work and / or college including:
Self-esteem; Self-advocacy; Executive functioning, Self-reliance;
Building on strengths and the use of mentors.
The cost is $99.  To register, go here.