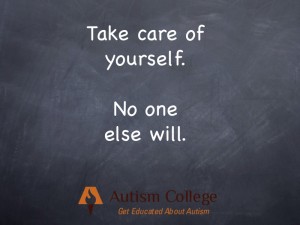 You are not a cat and you and you don't have nine lives. Even if you believe in reincarnation you only have one go at this time right now. So it's important to take care of your physical and mental health.
If you are a caregiver to others, it's all too easy to lose yourself. There's so much to do, you have barely time enough to take a shower.  It's hard to make time for yourself every day.  Often we put ourselves in second place – but this is wrong! If you don't take care of yourself, you will be no good for anyone else. Tomorrow there will be more care taking and more reasons why you can't do something you want to do to take care of yourself. So you have to find some time every day.
For some it is impossible to leave the house, or find more than 10 to 15 minutes at a time  (I've been there!) but it's important to create pleasurable moments for yourselves in even those short periods of time.
Today I'm meeting a friend and other dog-walkers for a walk. This takes care of three things important to my well-being: I'll get some exercise (physical health), I get to spend time chit chatting with a friend (mental health), and I get to see Handsome have fun with his dog-mates ( laughing is a great stress releaser). OK, so I have to do this at 6:15 am  (where even in San Diego  it is cold and still dark this time of year) before my husband leaves the house, but hey, nothing's perfect!
What are you going to do to take care of yourself today?