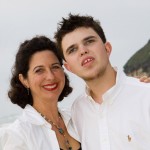 Jeremy and I wrote A Full Life With Autism in order to empower families. We hope that our experience – from the point of view of both a  young man reaching adulthood, and  a parent helping to prepare him for the future – will help you think about all your child needs – no matter his age- to prepare for the adult years down the road.
We've also highlighted the experiences of others,what organizations are doing to help prepare a brighter future, and what life skills a person needs to be successful as an adult.
We'll be writing here often and we hope that you will join the conversation about creating a full life with autism. Your comments, questions and suggestions are most welcome here.
If you've read any of my books and articles, or Jeremy's, then you know about us. Tell us your story. You are not alone, and we want to hear from you!
It takes a village to raise a child, and a community to make an enjoyable life.
Together, we can make a difference. Join the conversation!