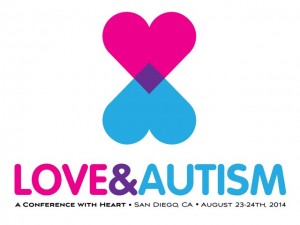 As parents, most of us are concerned with the basics in regards to our children with autism: "Are they getting their educational needs met?"  "When they grow up, where will they live and will they be employed?"  Of course, these are important concerns. But so are creating  connections with others, and developing healthy  relationships. It's not always easy to know how to help our children foster relationships.  If you are a parent or educator in Southern California, then you are in luck. Love & Autism: A Conference with Heart is taking place in San Diego on August 23rd and August 24th.
Jenny Palmiotto, LMFT,  Owner and CEO of The Family Guidance & Therapy Center of Southern California  decided to host this conference, and Jenny explains why in this blog post from the RDI Connect website: "As a professional who works directly with the autism community, the version of autism that the media depicts is far narrower than the diversity of people whom I have the privilege to work with on a daily basis. Likely the most devastating myth that I hear about individuals with autism, is that "people on the spectrum" do not want or need relationships. The most worrisome part of this falsehood is when loved ones and individuals on the spectrum start to believe this debilitating myth. It is crucial and long overdue that we discard this limiting belief. Relationships define lives, everyone's lives. Our primary goal in life is to love and be loved; this does not change when you are born with neurological differences associated with autism. Love is an innate and fundamental part of being human.
Many people struggle to find love and trusting relationships; some of those people have a diagnosis called autism. The diagnostic criteria for autism include social deficits as one of the three hallmarks of the disorder. However, the core deficit in interpersonal relationship does not mean that there is not a desire or longing to connect with others. Individuals on the autism spectrum want and need relationships at all phases of their lives.
New research shows the bi-directionality of autism, meaning that when an infant that later becomes diagnosed with autism interacts with his mother, he is more withdrawn, responding less to his mother's attempts to interact and then, in turn, the mother's interactions become more directive and less responsive/sensitive. The early relational disturbances that mark the parent-child relationship for those on the spectrum frequently extends over the course of life with difficulties in developing friendships and later intimate partnerships. Regardless, individuals on the spectrum feel the same emotional longing to belong and to be a part of something special at home, on the playground, in working/professional relationships, or as part of a team. The problem becomes: how can individuals on the autism spectrum get the closeness they want and deserve?
The ability to give and receive love is far more than a social skill that can be learned; it takes perseverance, reflection, risk, and trust. Our brains are experience dependent organisms, meaning that an individual has to experience relationships rather than simply learn about them in isolation. Professionals working with individuals with autism need to begin by understanding the neuro-science of attachment and love. It is essential that autism professionals do more than stop aberrant behaviors. We need to make sure that our interventions and methods have relationships as the primary focus. Relationship building cannot be secondary to behavioral skills training. Developing the "we" is important from the first moment of life and thus should also be central within our treatment options for those on the spectrum. Fulfilling reciprocal relationships are not only possible for all individuals on the spectrum, they are imperative to living a full and satisfying life.
If you are interested in finding out more about how to help your child, spouse, sibling, or loved one on the spectrum develop rewarding relationships; please join us at Love and Autism: A Conference with Heart on August 23-24th 2014. We know you will LOVE this event."
To receive more information about the conference, sign up here.
Student and Military 50% off if they email info@familyguidanceandtherapy.com, or event text (619)607-1230 a picture of their student or military ID.
Regional Center Members  can attend for FREE after Regional Center funding – email info@familyguidanceandtherapy.com  for links.
For any questions, please contact  info@familyguidanceandtherapy.com.