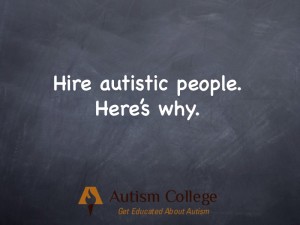 Margaret Heffernan, blogger for for INC. interviewed me about autism and employment and wrote this blog post. You can read the original post and comments here.
Jeremy is autistic. He is also very bright, observant, and, it now appears, synesthesiac: he sees people, ideas, and feelings in colors. At first, his mother Chantal was skeptical–"I'm not, she said pointedly, from California; I'm from New York!" But she appreciated that Jeremy was being (as always) totally honest in what he told her and, when he said he wanted to start painting, she took him seriously, and encouraged him.
"He's painting his dreams," she says, "and people will pay for that. So often, he does advocacy for the autism community. He sits on taskforces. He has tested curriculum to teach life skills. He does conferences. He writes articles, and blogs for the United Nations. And, most of the time, people expect him to do this for nothing–or for coverage of his expenses. He is grateful for the opportunities. But he has a life, and a living to earn too. So the fact that people will pay for his painting: I'm all for that."
Chantal Sicile-Kira is a leading authority on adolescent and early-adult autism. She's written five books on the subject, the latest of which Jeremy co-authored. A passionate advocate for the autism community, she is adamant that autistic adults can and will be valued employees.
"Lots of people are pushed into academic qualifications and that's fine," she says. "But then the system breaks down after high school. It's important for people on the autism spectrum to take an extra school year to learn life skills: self advocacy, relationships, organization. If they can do this, they can become employable. It's utterly wrong that they should end up pushing shopping carts when, a year earlier they were getting high grades."
As Jeremy writes in his blog, while "unemployment rates are frankly high for people in general, studies in the U.S. show it is greatly higher for those with autism. For example, the organization Easter Seals reported in a 2008 study that 22% of people with autism over the age of 16 have a paying job, compared to 75% of people who don't have autism. This truth is that our differences make it difficult for employers, employment agencies, and job coaches to realize our capabilities and to offer specific recommendations based on our shared label. Belief in the ability of each person is necessary because judging us by neurotypical (ie "normal") standards is not a real measure of our capacity for learning and being able to earn a living."
The imminent arrival in the United States of Specialisterne has prompted a fresh debate about how to employ autistic talent. The Danish firm has pioneered finding meaningful roles for autistic people in Europe and now founder Thorkil Sonne hopes to do the same in America.
"It makes perfect sense," says Sicile-Kira. "There are so many things that autistic people can do–and do well. For example, anything very repetitious and detail-oriented, work that requires great visual memory for the spotting of anomalies. You might not often think of someone with autism in terms of communication but they can be fantastic at understanding rules-bound communication, where it matters exactly what can and can't be said to whom. Autistic people are very loyal, fastidious, and reliable. They are not going to come in late because they had too many tequila shots the night before."
What's key, she says, is to find (or to become) trusted intermediaries. That isn't something that is unique to the autism community; after all, she says, she has a book keeper for her accounts. Jeremy is a wonderful painter but he needs someone to help with marketing; most actors have agents. What's the difference?
I've known Chantal for a long time and have always been in awe of her astonishing energy and imagination. She's proved a brilliant champion for the autistic community and never more so than now, when the first large generation of children, diagnosed correctly with autism, is about to graduate high school. She challenges all of us to think differently about who we might employ and how.
"It will be an economic failure if the new wave of high school graduates can't be employed. All these kids have talent and ability and a tremendous capacity to contribute. We have to stop thinking that all employees have to be the same, with the same skills, the same attributes."